About Kai Uwe Pel
Kai Uwe Pel was born in Recklinghausen, Germany in 1964, has been deeply involved in Chinese Martial Art since he began his formal training in Hong Kong at the age of sixteen. Since that time, he has studied with many noted Masters both in this country and in the Orient and has himself taught for more than 30 years.
While in Singapore, Kai also took the opportunity to study with his respected Praying Mantis Kung Fu and Taijiquan Grandmaster Koh Kim Kok.
Traditional training in Master Koh's class was very arduous. Students were expected to attend seven days a week, beginning with a class in the early morning and then between two and three hours in the evening. After many years, Kai was initiated as Master Koh's disciple meaning that their relationship became as close as that of father and son.
Since starting to teach Kung Fu, Kai has striven to not only pass on Praying Mantis in its traditional form but to ensure that his western students grasp the importance of the moral and philosophical teachings that ensure that this potentially lethal martial art is fully respected and that practitioners behave with respect towards the art, themselves and other people.
"My goal is to introduce Praying Mantis Kung Fu to as many people as possible, at the same time maintaining the high standards set by my own master and his predecessors," Kai says. "I believe one of the most efficient ways of doing this is to teach students who are willing to dedicate their lives to learning Praying Mantis Kung Fu full-time".
Today, Kai still teaches a select group in Shanghai. He is regarded as a living legend in Northern Praying Mantis Kung Fu circles.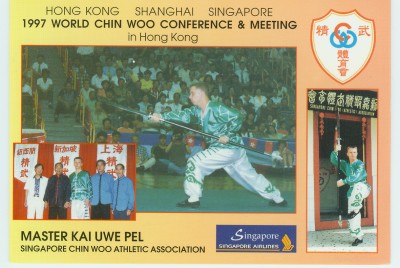 Grandmaster Chia Shue Foy, passed away peacefully on August 7th, 2000. He was just 62 years of age. He was a long time Chief Instructor of the Singapore Chin Woo Athletic Association.
A Word of Thanks To My Teachers
I'd like to thank and acknowledge my teachers whose strict teachings and strong moral character have been inspirational and essential to my martial arts development. My knowledge and skills come from their unselfish sharing of the arts they love so well and I will continue to train, to study and to try to help others, hoping that I will not disappoint them.
 Kai Uwe Pel in the Early Years – Part I….read more here
Kai Uwe Pel in the Later Years – Part II…read more here
Kai Uwe Pel in Featured Martial Arts Magazines….read more here